Samsung's Galaxy S23 series features some great camera hardware, and now Samsung is offering users a pair of accessories to make use of their cameras. The Official Samsung Camera Grip and Slim Tripod are compatible modular accessories with the Samsung Gadget Cover. The slim transparent silicone case offers a special attachment point on the back that allows you to swap different accessories.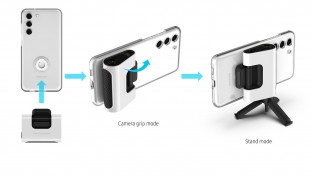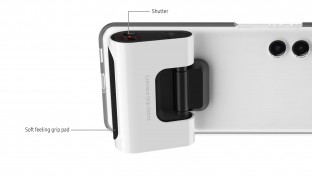 Samsung camera stand
The new Camera Grip offers a detachable Bluetooth shutter button and grip area for a more traditional photo shooting experience. The grip attachment also has a tripod that's hidden inside the stand and rotates so you can prop the phone up in different ways. The Camera Grip accessory comes in a single white color and is already listed on Samsung's UK site but without pricing details.
The Slim Tripod does just as the name suggests, allowing you to prop your Galaxy S23 up on its three metal feet. You can also use it as a vlog grip attachment while flattening and extending the feet. The Slim Tripod comes in a single silver color and is listed for £34 on Samsung's official UK website. The listed price does not include the Samsung Grip case required for new stand attachments and costs £49 / $45.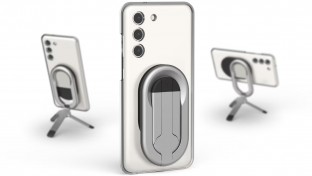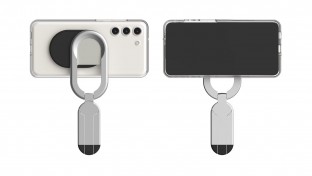 Samsung slim tripod
Camera Stand • Slim Tripod