Last week saw the first appearance of the Asus ROG Phone 7 on Geekbench, possibly the 7D variant (according to unit number ASUS_AI2205_D). Of course, the previous D model used a dimension chip, so this could be a different variant instead. And there is no shortage of variants, there are at least two more lurking in the Geekbench database.
Here's the AI2205_B and AI2205_C, and presumably the Asus ROG Phone 7 and 7 Pro. Unconfirmed reports claim that version C will be available in India.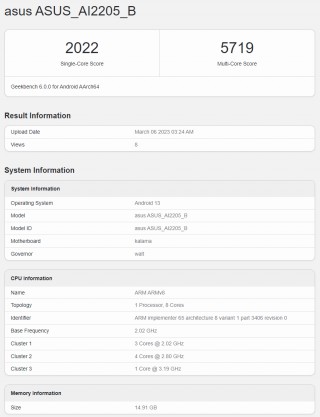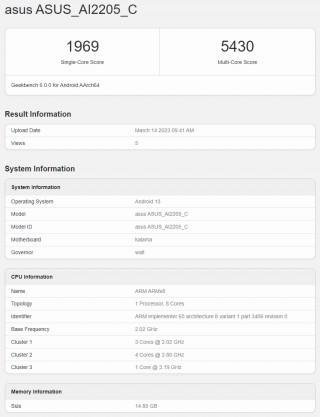 Asus ROG Phone 7 (and Pro?) running Geekbench 6
Note that all three variants we've seen so far, B, C, and D, use the Snapdragon 8 Gen 2, base version 3.19GHz. In the past, the company has offered enhanced versions of Qualcomm's top chip, for example the ROG Phone 5 (and Pro) which launched with the Snapdragon 888 (2.84GHz), then came the ROG Phone 5s (and Pro), which runs the Snapdragon 888+ ( 2.99 GHz).
There is a version of the 8 Gen 2 running at its core at 3.36GHz, up from the 3.19GHz shown here, but that's exclusive to Samsung. We never find out if this is exclusive timing or not.
Anyway, all three variants feature 16GB of RAM, but to the knowledge of Asus, there should be at least an 18GB version as well. This should be LPDDR5X RAM plus UFS 4.0 storage as we've seen on other 8 Gen 2 flagships.
according to ToolsThe Asus ROG Phone 7 will feature a 6.8-inch FHD+ 165Hz AMOLED display (with an in-display fingerprint reader), as well as a 6,000mAh battery with 65W charging. That's pretty much what the 6-series model had, too.
The Asus ROG Phone 6 series arrived in July last year, so we're at least a few months away from seeing next-gen ROG phones.
Source 1 | Source 2 | via