Smartwatch shipments increased 12% in 2022 compared to 2021 based on the latest Global Smartwatch Model Tracker Report from Counterpoint Research. The growth was driven by strong sales of smartwatches in the first three quarters of 2022. Shipments in the fourth quarter (Oct 1 – Dec 31) were down 2% year-on-year supported by higher levels of inflation and slower growth in India.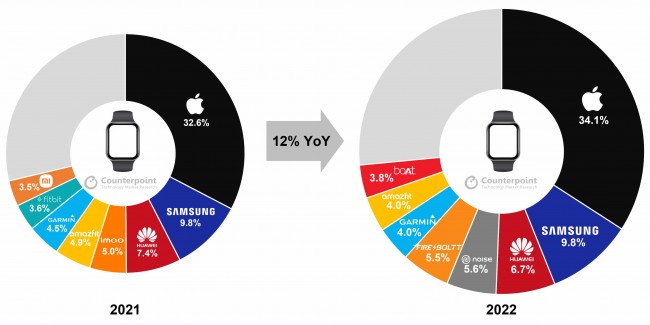 Global smartwatch shipments share 2021 versus 2022 (Counterpoint Research)
Apple remains the top brand worldwide in terms of shipments with 34.1% of the market, followed by Samsung (9.8%) and Huawei (6.7%). Apple saw strong demand for the Watch Ultra, Watch Series 8, and Watch SE (2022) models. Cupertino accounted for 60% of the global smartwatch market revenue.
Samsung came in second with a 12% increase in shipments but only a 0.5% increase in revenue. Huawei saw a decrease of 1 percentage point while its revenue increased by 20%. Indian smart wearable brands Noise and Fire Boltt have risen to the fourth and fifth positions in global shipments thanks to rapid growth in their home market. Garmin, Amazfit, and BoA all hover around the 4% market share figure. Fitbit came in at the 10th spot while Xiaomi is now in the 11th spot.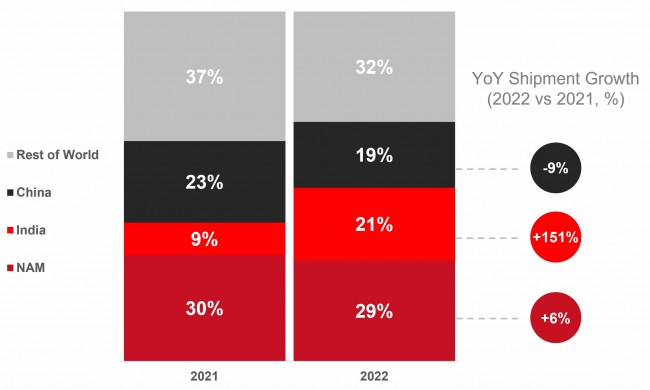 Smartwatch Shipment Share by Region 2021 vs. 2022 (Counterpoint Research)
Segmentation of the global smartwatch market by region shows that North America is the largest market in terms of shipment volume with a share of 29%. India saw explosive growth in 2022 and is now the second most important region for smartwatches while China comes in at the third position.
The largest group of smartwatches shipped in 2022 was in the $100 price category which accounted for 35% of all shipments. $400 saw the largest rise in shipments (up 129% year-over-year) largely supported by Apple Watch Series 8 and Watch Ultra models.
source