OnePlus 11 global launch is just around the corner. The phone will be unveiled at the Cloud 11 launch event that will be held in New Delhi, India on February 7. The flagship phone will be sold in regions across the world, including North America, Europe (excluding Germany), Asia, and more. While we await the official debut, the Amazon listing for the OnePlus 11 confirms its specifications and pre-order date for the US market. Separately, a report reveals the pricing of the phone in the European region. Details here.
Amazon US recently listed the OnePlus 11. While the listing has now been taken down, a few screenshots floating around confirm the smartphone's specifications and pre-order date for the North American region.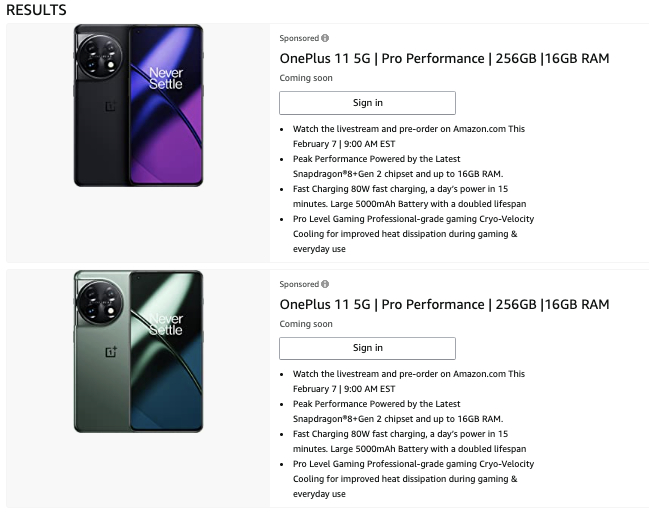 As mentioned earlier, the OnePlus 11 will arrive in the US with only 80W charging support. Conversely, other regions will receive a 100W smartphone charging variant that can fully charge a 5,000mAh battery in just 25 minutes. Also, North America will apparently get the 16GB RAM version with only 256GB storage, and other markets can get it with 512GB storage as well. Interested readers will be able to pre-order the device on February 7, which is the same day as its global launch.
Additionally, a WinFuture report revealed the OnePlus 11 pricing for the Old Continent. It will be available in the Eurozone at a starting price of €899 for the basic 8GB + 128GB storage version. The 16GB + 256GB storage model will retail for €949.
If you didn't already know, the OnePlus 11 will not arrive in Germany due to the country's recent ban on the sale of OnePlus and Oppo smartphones. This was due to the patent dispute between the Chinese company and Nokia.
Related: