A large number of Oppo phones will be updated to ColorOS 13 this month. This includes phones that will get the stable version as well as phones whose firmware still needs a little work (these will get the beta version instead). Again, this listing is for December only.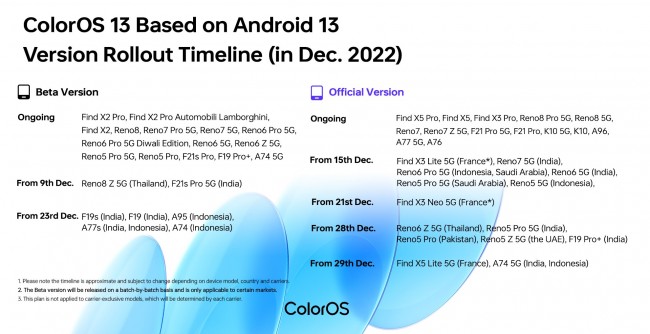 The official release schedule for ColorOS 13 is in December 2022
Oppo cautions that the timeline is approximate and there may be unexpected delays for certain models in some countries for certain carriers. Also, the update schedule for carrier-exclusive models depends on the carriers themselves.
With that in mind, here's the schedule. Newer high-end models will be bumping up to ColorOS 13 over the next couple of weeks, then attention will turn to older and lower-end models. Note that some updates cover all regions, while others will arrive on a country-by-country basis.
ColorOS 13 stable updates
processing
From December 15th
From December 21st
From 28 December
From 29 December
There are quite a few phones that will be in beta testing this month before the stable version is ready. Here is the list. There is some overlap with the above list as the firmware for some regional variants are not ready for prime time. Note: The beta program will be released on a batch-by-batch basis.
ColorOS 13 beta
processing
From December 9th
From December 23
If you want to know more about Oppo ColorOS 13 mod for Android 13, check out our hands-on review. Also, there are quite a few Oppo phones (and tablets) that are still on the waiting list, their update is coming in the first half of 2023 (more details on the official page).