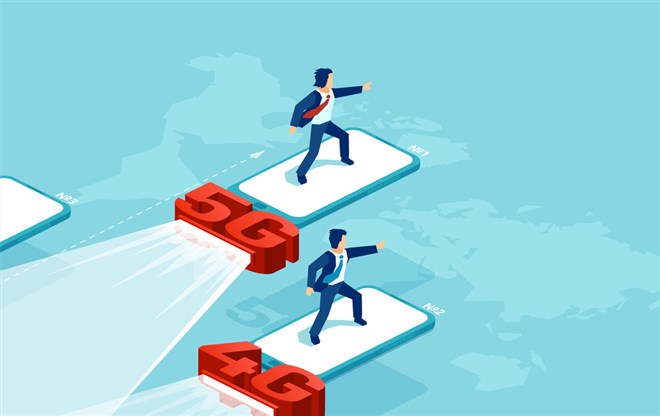 By now, you've probably heard the term "5G wireless" many times. Phone companies' ads are everywhere touting the superiority of their 5G network. In fact, you may have already upgraded to a 5G smartphone but you may not notice the difference. Your 5G phone may still work on a 4G network because your geographic area may not yet support 5G.
However, by 2025, 5G will cover two-thirds of the world, according to Ericsson. We are still in the phase of rolling out the 5G revolution – operators are starting to add capacity again at a higher rate. The downward spiral of the tech stock market means that opportunities still exist for those interested in investing in 5G stocks.
By the time you finish this article, you will come away with a better understanding of the 5G industry and key 5G stocks to invest in.
Why invest in 5G?
The reason to invest in anything is to profit from the potential upside. We're still in the early stages of 5G's mainstream penetration – its coverage has only reached 25% of the population by the end of 2021. Now, nearly 60% of new smartphones are 5G-enabled.
The market should have widespread adoption by 2025, when 5G will cover two-thirds of the world, according to Ericsson. 5G provides a platform for innovation and efficiency, enhancing existing applications and opening the door to many new technologies and applications.
Qualcomm estimates that 5G will enable up to $13.1 trillion in global sales activity by 2035. The initial 5G hype has seen it peak and crash. The pandemic has accelerated the use of e-commerce and wireless broadband for years to accelerate the move towards mass 5G and handle capacity. We are now in the adoption and immersion phase, where consumers and businesses can access and use 5G.
The rebound in interest and investment in 5G networks has swelled despite the current uncertain economic environment.
Ways to invest in 5G
You can think of three areas to invest in 5G: infrastructure, device and service providers. Improved applications are the indirect beneficiaries of 5G. For example, Apple's iPhone 14 has 5G capabilities but is an investment in Apple company (NASDAQ:AAPL) is not a direct 5G investment.
5G stocks are down in 2022 due to the bearish trend in US stock markets. Is this a glass half full scenario? Possibly, since a larger decline in the share price could provide a larger annual dividend yield and greater upside potential when the stock market recovers.
infrastructure
Infrastructure investment entails investment in the companies that build, upgrade and service the networks that power the 5G network. Service providers can expand bandwidth capacity by upgrading existing 4G networks while building the wireless access network (RAN) towers and small cell base stations needed for true standalone 5G networks. The infrastructure also includes bidding for higher spectrum bands in auctions.
hardware
Investing in hardware means investing in the companies that provide the key components to build the equipment needed to enable, operate and use 5G. You can invest in companies that make the mobile semiconductors or wireless chips needed for consumers to use 5G service, which can range from switch providers, routers, and fiber optics to the different semiconductor companies that handle those processors to use 5G.
service providers
Service providers offer 5G service to customers. They are the broadband telecommunications providers that actually operate the networks. Businesses may own or lease physical network towers but provide access to use 5G service and enable consumers and businesses to operate 5G-enabled devices.
The most important companies involved in 5G
You may recognize some or all of the companies involved in the various fields of broadband, information technology, and cellular networks on this list. When investing, consider other complementary products and services offered by these major companies and do your research on the latest earnings reports and financial metrics. These companies cover areas of investment that include infrastructure, semiconductors and service providers. Let's take a look at six of the best 5G stocks to invest in.
Telefonaktiebolaget LM Ericsson
Stockholm based Telefonaktiebolaget LM Ericsson (NASDAQ: ERIC) is a multinational network communications company that provides infrastructure and network services in more than 180 countries around the world. We have grown a portfolio of more than 40,000 patents. The company has played a major pivotal role in its business from selling cheap mobile phones to driving network transformation trends. The 5G Intellectual Property (IP) portfolio helps provide a one-stop solution for building a 5G network by upgrading existing networks.
Ericsson has contracts with the world's largest telecom service providers, from a $3.5 billion deal with them T-Mobile US (NASDAQ: TMUS) to Verizon Communications Inc. (NYSE: VZ) selected the company in 2017 to launch its fixed 5G network. Ericsson also built 65% of AT&T's 4G mobile network.
The company increased its RAN market share from 33% in 2017 to 39% in the third quarter of 2022 and signed "significant" contracts with increased geographic footprints in its earnings for the third quarter of 2022.
nokia aug
Based in Finland nokia aug (NYSE:NOK) provides products and services for RAN, covering 2G to 5G technologies. The company has benefited from the strength of the US dollar against the euro as it generates much of its income in dollars while its expenses are denominated in euros.
The company continues to invest in 5G infrastructure; Operators continue to add capacity at a higher rate. Notable wins include a contract for 45% of the planned 5G network to India-based Bharti Airtel and the selection of Reliance Jio, India's largest mobile operator, as the provider of 5G equipment. NOK tends to attract more interest when shares are below $5.
Qualcomm
Qualcomm (NASDAQ: QCOM) provides the Snapdragon series of 3rd to 5th generation smartphone CPU chipsets from Samsung, Apple, Lenovo, Vivo, Motorola, Xiaomi, OnePlus, Oppo and Android devices. It pioneered CDMA technology in the 3G era. Its chips are also used in modems, cars, and wearable devices.
The Qualcomm Snapdragon X65 was the world's first 10 Gigabit 5G solution and the first 3GPP Release 16 modem-to-modem antenna solution. It is designed to extend 5G into mobile broadband, fixed wireless, industrial Internet of Things, and 5G private networks.
Skyworks solutions
Skyworks solutions (NASDAQ: SWKS) provides analog semiconductors optimized for next-generation 5G wireless infrastructure applications. It supplies chips for front units and RF systems. It is the front-end supplier of Apple 5G iPhone RF.
Smartphone sales have been dragged down by Skyworks' stock price, but 5G tailwinds could pick up due to capacity and content growth. It also has potential for growth in the electric vehicle market in China as it provides RF expertise to MediaTek platforms with the adoption of 5G connectivity.
T-Mobile US
T-Mobile US (NASDAQ:TMUS) is the fourth-largest wireless carrier in the country. T-Mobile has the most reliable 5G network with the fastest 5G speeds and the best 5G coverage, according to a report by umlaut. T-Mobile uses 600MHz signals that travel farther and provide more 5G coverage than its competitors.
In 2022, the company planned to add 6.3 million additional net customers for the full year of 2022, overwhelming Verizon's 12,000 additional customers and AT&T's 813,000 additional customers.
Verizon connections
Verizon connections (NYSE: VZ) is the second largest wireless operator in the country. The 5G mobile network is available nationwide in more than 2,700 cities as it continues to expand its network. Its 5G broadband network uses high-band (mmWave) and medium-band (C-band) spectrum with speeds up to 10x faster than its nationwide network. Verizon deploys both technologies along with 4G LTE. 5G phones that are out of coverage area automatically switch to 4G LTE mode.
AT&T
AT&T (NYSE:T) is the nation's largest wireless provider with 44.8% of the country's wireless subscriptions, communications, media, and technical services worldwide.
It offers a range of devices and service plans and leads the transition to 5G. 5G comes in three levels that unlock the full potential of the technology. The AT&T 5G low-band base uses broader coverage and can reach 281 million people in 22,000 cities. The advanced 5G+ uses millimeter wavelengths and reaches 45 major metropolitan areas, stadiums and other high-traffic areas. 5G+ with C-band delivers high speed and wide coverage.
The pros and cons of investing in 5G
Investing in 5G comes with both pros and cons that you should consider before investing. These considerations range from new technologies to the effects of underlying economic climates and consumer sentiment.
Advantages of investing in 5G
What are the benefits of investing in 5G? lets take alook:
Affordability: 5G stocks are more affordable because of the huge market for the technology.
diverse: 5G stocks are also involved in complementary products and services, so investors are somewhat diversified.
Artificial intelligence Applications (AI): AI applications will become more efficient as 5G enables more robust real-time data collection to enable device-to-machine (D2D) and machine-to-machine (M2M) communications.
efficacy: 5G is an enabling technology that will make data-intensive and mission-critical applications more efficient and mainstream from precision agriculture (farming technology) to smart cities and autonomous vehicles.
The downsides of investing in 5G
Investing in 5G includes the following downsides:
Risky in weak economies: Investing in 5G networks can be risky in recessions and weak economic climates as companies cut capital expenditures and consumers reduce expenses such as upgrading to a 5G smartphone or a 5G wireless plan. Uncertain economic climates could also slow 5G infrastructure spending, build and adoption.
Expensive to build: Financing the construction of 5G infrastructure can be more expensive as interest rates rise
exports: A strong US dollar could hurt 5G companies that export products abroad.
Will you benefit from 5G?
While investing in 5G isn't a new topic (kind of like learning about FAANG stock – it's not a new concept), it has regained momentum as 5G stocks are trading at historic lows. This provides more upside in the recovery and in many cases, a great return. Global adoption of 5G technology is not a matter of if, but when. We're still in the early innings of the 5G revolution, so consider whether 5G deserves a place in your portfolio.
Before you think about Apple, you'll want to hear this.
MarketBeat tracks Wall Street's top-rated and top-performing research analysts and the stocks they recommend to their clients on a daily basis. MarketBeat identified the five stocks that top analysts are quietly whispering to their clients to buy now before the broader market grabs hold… and Apple wasn't on the list.
While Apple currently has a "moderate buy" rating among analysts, the higher-rated analysts think these five stocks are a better buy.
View the five stocks here