The Samsung Galaxy A53 was unveiled in March this year, but its successor – the Galaxy A54 – is expected to come even earlier, possibly sometime in January 2023 instead of March. There is no information from Samsung on the Galaxy A54 yet, but thanks OnLeaksWe now know what the smartphone will look like.
The Samsung Galaxy A54 looks similar to the A53 from the front as it is built around a central display hole measuring 6.4 inches diagonally, making it 0.1 inches smaller than the A53's display. Although it has the same refresh rate (120Hz) and resolution (FullHD+) as the Galaxy A53.
Around the back, the Samsung Galaxy A54 has three cameras instead of four like the Galaxy A53. These stand out from the flat panel because they're not housed inside the camera island like the A53 shooters.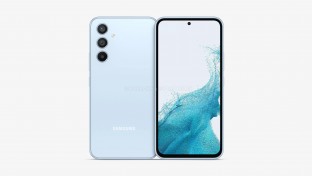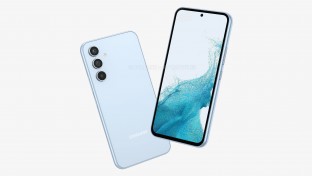 Samsung Galaxy A54 render has been leaked
The Galaxy A53's rear camera is set up with a 64MP unit, but the Galaxy A54 is rumored to have a 50MP primary camera.
The Samsung Galaxy A54 has a USB-C port on the bottom, flanked by a primary speaker and microphone grille. At the top there is a SIM card slot with another microphone, while the right frame of the smartphone houses the volume rocker and the power button.
The power button doesn't appear to have a fingerprint scanner so we'll likely get an in-display solution like the Galaxy A53, which means the A54 will pack an AMOLED screen.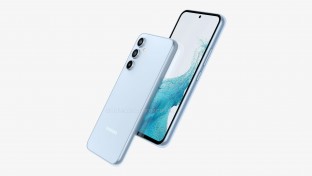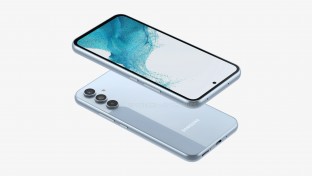 Samsung Galaxy A54 render has been leaked
The Samsung Galaxy A54 is 8.2mm thick, which is 0.1mm thicker than the A53, but that also means a bigger battery since previous rumors claimed that the Galaxy A54 will come with a 5,100mAh battery (the A53 packs 5,000mAh) .
The Samsung Galaxy A54 has already received 3C certification, and we should hear more about it in the coming weeks as we get closer to its expected launch.
source