Poco X4 Pro is a fairly nice mid-range smartphone, which has a premium design with relatively thin bezels and flat bezels. One of the phone's strongest areas is undoubtedly its 6.67-inch AMOLED display, which offers a 120Hz refresh rate and a 360Hz touch sample rate. But the highlight of the Poco X4 Pro 5G is the inclusion of the impressive 108MP snapper on the back.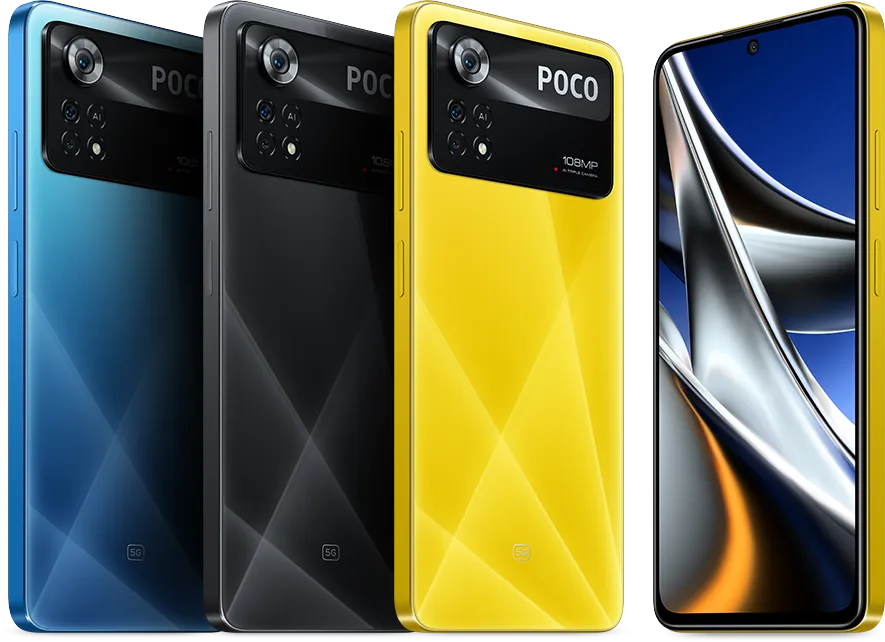 It also has an 8MP ultra-wide lens and a 2MP macro lens. With this camera setup, the phone should take detailed, noise-free photos. Unfortunately, this is not entirely the case as its software is a bit disappointing. But don't worry, you can easily correct this with proper GCam.
To help you improve your photography experience, we have compiled the best GCam Apk for Poco X4 Pro. We tried to add stable and working versions for most users.
In case you're not familiar with GCam, here are a few explanations in order. Google Camera (GCam) is a camera app developed by Big G for the Android operating system. While the app was originally supported on all Android 4.4 and above devices, now it only works on Google smartphones. Fortunately, some developers are making the extra effort to unofficially port GCam to other Android phones (thank you, kind gentlemen).
GCam offers some great features, including but not limited to Night Sight, Panorama, Motion Photos, Blue Lens, Astrophotography mode, and more. Also, the post-processing algorithms that you use are already optimizing the images. Compared to the stock camera, it offers better exposure, greater detail, and cleaner images. GCam needs to be tuned properly, though, to reap its full potential. Users can adjust them the way they want to get the best photos.
Download GCam for Poco X4 Pro
Like most Android phones, Poco X4 Pro comes with Camera2 API enabled, so you can easily install a GCam port on it. The most stable one is GCam v8.1 port by BSG. This is recommended by many users and provides great improvements to the stock Poco camera app.
Download GCam for Poco X4 Pro here
Make sure to download "MGC_8.1.101_A9_GV1zfix_MGC.apk", which is the second in the list.
Users have reported that the phone's stock camera produces images that suffer from extra noise and that image processing is often inadequate. The right GCam can help you correct these issues. GCam can help you take photos with better detail, especially in low light situations. It also reduces noise and performs perfect processing.
Download LMC GCam
You can also download LMC 8.4 R8 GCam. This port is fully compatible with the Poco X4 Pro and offers significant camera improvements. You will also need to download a configuration file for this version. The steps for this are listed below in the article.
Download LMC 8.4 R8 for Poco X4 Pro here
How to install GCam on Poco X4 Pro
Follow the steps given below to install the GCam port on your Poco phone:
Download the GCam APK file from the links added above.
After installing the APK, you will be asked to give the system permission to install apps from unknown sources at the earliest.
Grant the permission by heading to Settings > Security/Privacy > Enable Install from Unknown Sources.
Now, run the APK file again.
Wait for the process to complete, and you are good to go.
Steps to load configuration files in LMC 8.4 R8
Download the configuration file from here.
Create a new folder and name it GCam.
Next, open the GCam folder and create another folder inside it and name it configs7.
Move the downloaded configuration file to the configs7 folder.
Now, open the Google Camera app and double click on the empty area around the shutter button.
Select the configuration file and hit the restore button.
Finally, head to the app drawer and open the app again.
advice:
Several users reported that they are experiencing green image problem while using GCam due to HDR error. If you encounter a similar issue, try this fix (via):
Go to Setting > Progress > Google AWB Mode Options > Turn on AWBGain > Set Google AWB to Automatic
Related: